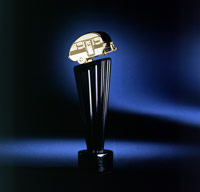 I had no idea the Golden Trailer Awards existed, but they look pretty fun.
Scrolling through the list of nominees is a good time–though you'll have to do your own searching on Youtube to find any actual videos, which is sort of frustrating.
Personally, I'm rooting for the Dark Knight trailer, partly because it's badass, and partly because I'm a total nerd. On the other hand, the trailer that got me most interested in a movie this year was this one for Julia Loktev's abstract thriller Day Night Day Night. I mean–wow.
If you have cable, you can catch the GTAs on Fox's "MyNetworkTV" (whatever the hell that is) this Thursday May 8th. The judges include Jim Sheridan, Harris Goldberg and Austin's own mega movie nerd Harry Knowles. And it's hosted by Sinbad, which, in itself, is hilarious.
Oh, and while we're on the subject of trailers, watch this.