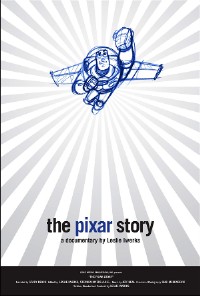 Last night I caught a promotional screening of Leslie Iwerks' fantastic new documentary The Pixar Story. Leslie is the granddaughter of legendary animator Ub Iwerks, who (depending on who you ask) is said to have created Mickey Mouse.
I'm a huge Pixar fan, and the film is a really fun watch, especially for anyone who's interested in the history of computer animation. The creative folks behind the company (namely John Lasseter and Ed Catmull) are true visionaries in a lot of ways, and their passion for pushing the limits of animation–especially early on, when the company was losing Steve Jobs $1M a year–is truly inspiring.
But the thing that struck me most when watching The Pixar Story was the sheer volume of copyrighted footage and music that appears in the film–most of it owned by a company whose chairman once said, "when it comes to intellectual property, you can't be too litigious." During the Q&A, Iwerks talked about "assuming" that they had the rights to certain bits of footage, which leads me to believe that they paid very little for most of the clip clearances. (I believe the film is also being distributed by Disney, which further suggests that they were as much a partner as a subject.)
Don't get me wrong–I loved watching all the insider interviews and rare archival footage. They're what make this documentary so great. But I have to wonder what it would have cost for someone who wasn't Iwerks to make a remotely similar documentary. Or if it would have even been possible to make such a documentary with a differing viewpoint–perhaps one that's more journalistic than fawning.
I mention this partly because I like to be negative about everything, and partly because I just finished watching this clip of John Landis talking about the ridiculous, arbitrary cost of clearing clips for his new documentary about Don Rickles (which is screening this week at the Austin Film Festival).